Mold Damage Remediation in Ocala, Florida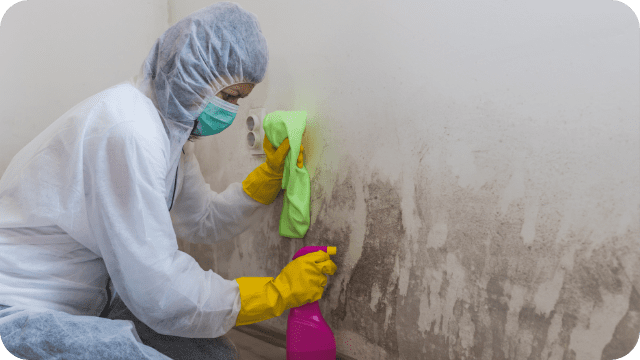 If you suspect your home or business has mold damage, the time to act is now. Mold spores are present in virtually every room. These microscopic spores can get inside through various ways, from an open window to using a door. Mold spores only become a problem when introduced to the ideal settings. Once under prime conditions, mold colonies can latch onto surfaces and materials. They can degrade them and cause deterioration as well as unpleasant scents.
United Water Restoration Group of Ocala, Florida technicians are highly proficient in dealing with mold colonies. Our technicians in Ocala, Florida are trained and certified to handle every step of our mold damage remediation services. Though mold colonies may not present an emergency, our emergency hotline, (800) 430-5838 is open 24-hours a day, 7 days a week, 365 days a year. Our technicians in Ocala, Florida are readily available to assist you whenever you need them.
Upon arriving at your home or business, our technicians in Ocala, Florida will carefully comb your property. Once they complete their inspection they can provide you with a comprehensive assessment that shows exactly what we need to do to bring your property back to normal. Once our technicians in Ocala, Florida assist you in starting the process, we can begin with clearing excess water in affected areas, if applicable. From there, they will begin dehumidifying and drying affected spots. Once the areas are dried, our technicians can clean, clear, and sanitize your property. This part of the process not only helps clear existing mold colonies but also helps treat and prevent new ones from growing.
United Water Restoration Group of Ocala, Florida can help bring your home or business back to its normal state. Our technicians can erase any lingering effects and help repair and restore damaged items such as carpet and drywall.
Read What Our Mold Remediation Customers Are Saying
"Wonderful experience. Fast and efficient. Removed water and mold. Lamarr Explained the process to the "t". Was very helpful and went as far as removing the cabinets and taking the cabinets away. If needed again would definitely use them again. Very helpful."
"The United Water Restoration staff Marcus and Mike were very professional, through and on time. Thank you!"