Disinfection & Cleaning Services in Ocala, Florida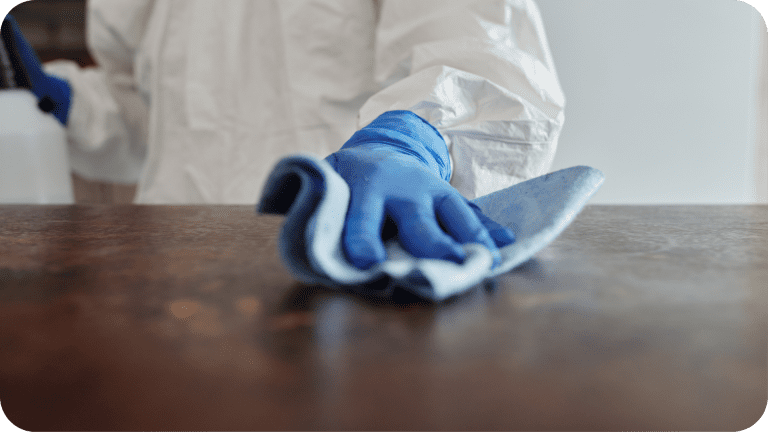 United Water Restoration Group of Ocala, Florida technicians are also proficient in disinfecting and cleaning services. These services can be utilized by businesses and homes alike to protect those who live or depend on your property. Microscopic pathogens create a potentially unsafe environment. Pathogens such as the common cold or flu can spread easily off of high-touch surfaces that go unclean for some time. Surfaces like doorknobs, counters, and furniture are touched often and cleaned sparingly. If a person infected by a pathogen touches it, they can leave the pathogen behind to survive for days. Allowing it to pass on to the next person who comes in contact with it.
United Water Restoration Group of Ocala, Florida can assist in keeping your home or business safe and protected against these pathogens. Our technicians in Ocala, Florida will comb through your property and disinfect surfaces and hard-to-reach areas. While administering our disinfecting and cleaning services, our technicians follow all CDC, EPA, and OHSA guidelines. Our technicians in Ocala, Florida only use EPA-approved chemicals to ensure the safety of your property and our technicians.
Our disinfecting and cleaning services in Ocala, Florida can be utilized in a number of situations. If you're a homeowner expecting a social gathering, we can come in before the event to help protect your guests. We can also administer them after a party to assist in protecting you and those who live in the home. For businesses, it can be utilized after a day of increased traffic or even after an average day. These services allow our technicians in Ocala, Florida to provide thorough disinfection that erases the potential threat of harmful pathogens. Our disinfection and cleaning services can also help rid your home or business of things such as dander, dust, and pollutants. United Water Restoration of Ocala, Florida technicians can give your home or business a major uplifting clean that helps protect those who depend on your home or business.
Read What Our Disinfecting & Cleaning Customers Are Saying​
"Service was prompt! The company had a representative at my door within the hour! Outstanding support The Service Representative, Lamar, was courteous, professional and helpful! He made an unpleasant situation bearable!"
"We had an awesome experience with United Water Restoration. We had a leak in our roof due to hail and wind damage that occurred apparently in May 2019. We were out of town most of the summer and did not find the leak until we returned. The dining room wall was pretty much saturated. Michael and his partner responded quickly and set up their fans and dehumidifier. They checked on the walls and the equipment daily making adjustments as needed. They were always here when they said they would be and very professional. GREAT JOB!"